Skara Brae (Scotland)
Posted by Sjur Cappelen Papazian on December 6, 2019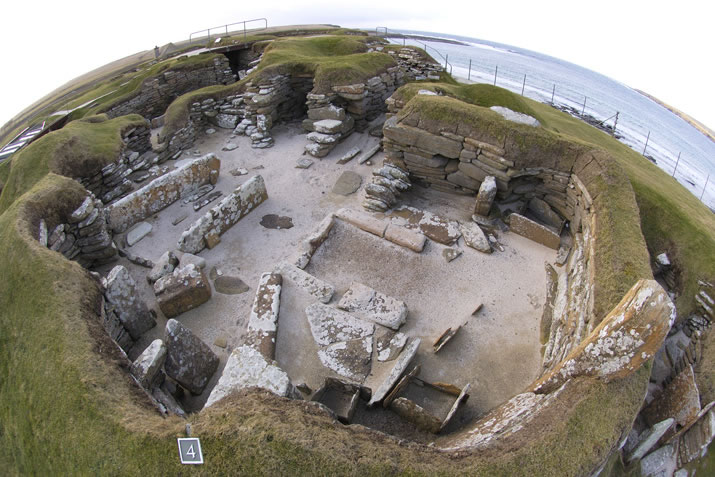 Skara Brae is a stone-built Neolithic settlement that is older than Stonehenge and the Great Pyramids, it has been called the "Scottish Pompeii" because of its excellent preservation. It gained UNESCO World Heritage Site status as one of four sites making up "The Heart of Neolithic Orkney".
It is located on the Bay of Skaill on the west coast of Mainland, the largest island in the Orkney archipelago of Scotland. Consisting of eight clustered houses, it was occupied from roughly 3180 BC to about 2500 BC and is Europe's most complete Neolithic village.
Skara Brae (Scotland) is associated with haplogroup G2a and I2b. The testing of Neolithic remains in various parts of Europe has confirmed that haplogroup G2a was the dominant lineages of Neolithic farmers and herders who migrated from Anatolia to Europe between 9,000 and 6,000 years ago.
As of late 2016, there were 303 mutations (SNPs) defining haplogroup G, confirming that this paternal lineage experienced a severe bottleneck before splitting into haplogroups G1 and G2. G1 might have originated around modern Iran at the start of the Last Glacial Maximum (LGM), some 26,000 years ago. G2 would have developed around the same time in West Asia. At that time humans would all have been hunter-gatherers, and in most cases living in small nomadic or semi-nomadic tribes.
The highest genetic diversity within haplogroup G is found in the northern part of the Fertile Crescent, between the Levant and the Caucasus, which is a good indicator of its region of origin. It is thought that early Neolithic farmers expanded from northern Mesopotamia westwards to Anatolia and Europe, eastwards to South Asia, and southwards to the Arabian peninsula and North and East Africa.
Members of haplogroup G2 appear to have been closely linked to the development of early agriculture in the Fertile Crescent part, starting 11,500 years before present. The G2a branch expanded to Anatolia, the Caucasus and Europe, while G2b diffused from Iran across the Fertile Crescent and east to Pakistan.
There has so far been ancient Y-DNA analysis from Early Neolithic Anatolia, Iran, Israel, Jordan as well as most Neolithic cultures in Europe (Thessalian Neolithic in Greece, Starčevo culture in Hungary/Croatia, LBK culture in Germany, Remedello in Italy, and Cardium Pottery in south-west France and Spain) and all sites yielded a majority of G2a individuals, except those from the Levant. This strongly suggests that farming was disseminated by members of haplogroup G at least from Anatolia/Iran to Europe.
Scottish Farmer Discovers 5,000-Year-Old Lost City